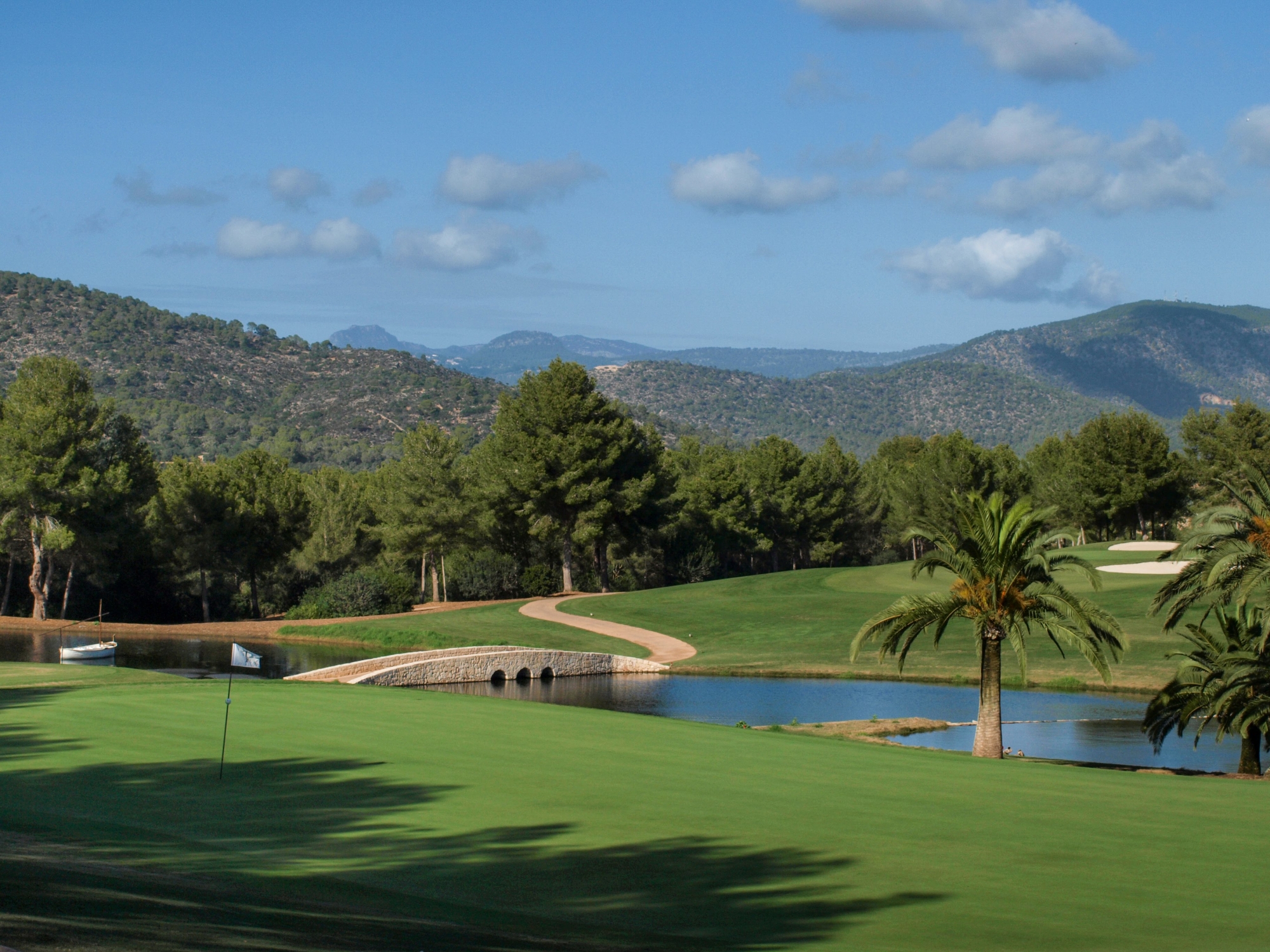 A Mediterranean Masterpiece
Golf Course – T Golf Calvia
In 1978 when famed golf course designer John Harris put the finishing touches on what is now T Golf & Country Club many called it a masterpiece and his most inspired work.
Today T Golf is one of the oldest, highest rated and most popular courses on the island and after a nearly two-year renovation it is back to its original splendor.
Lying just 12 km from the city of Palma, T Golf's wide fairways and large greens make for a great challenge to any level golfer. The 18 holes, par 72, measures 6.450 meters course runs through beautiful rolling hills.
Majestic pines, fifteen lakes, numerous bunkers, and the biggest greens on the island all combine to make this one of the most enjoyable rounds you will ever play. For nature lovers, the flora and fauna on the course make it a pure Mediterranean paradise. Of special note are the views from the 8th and 16th holes which are worth a visit alone and give the player an appreciation for the rugged beauty of this course.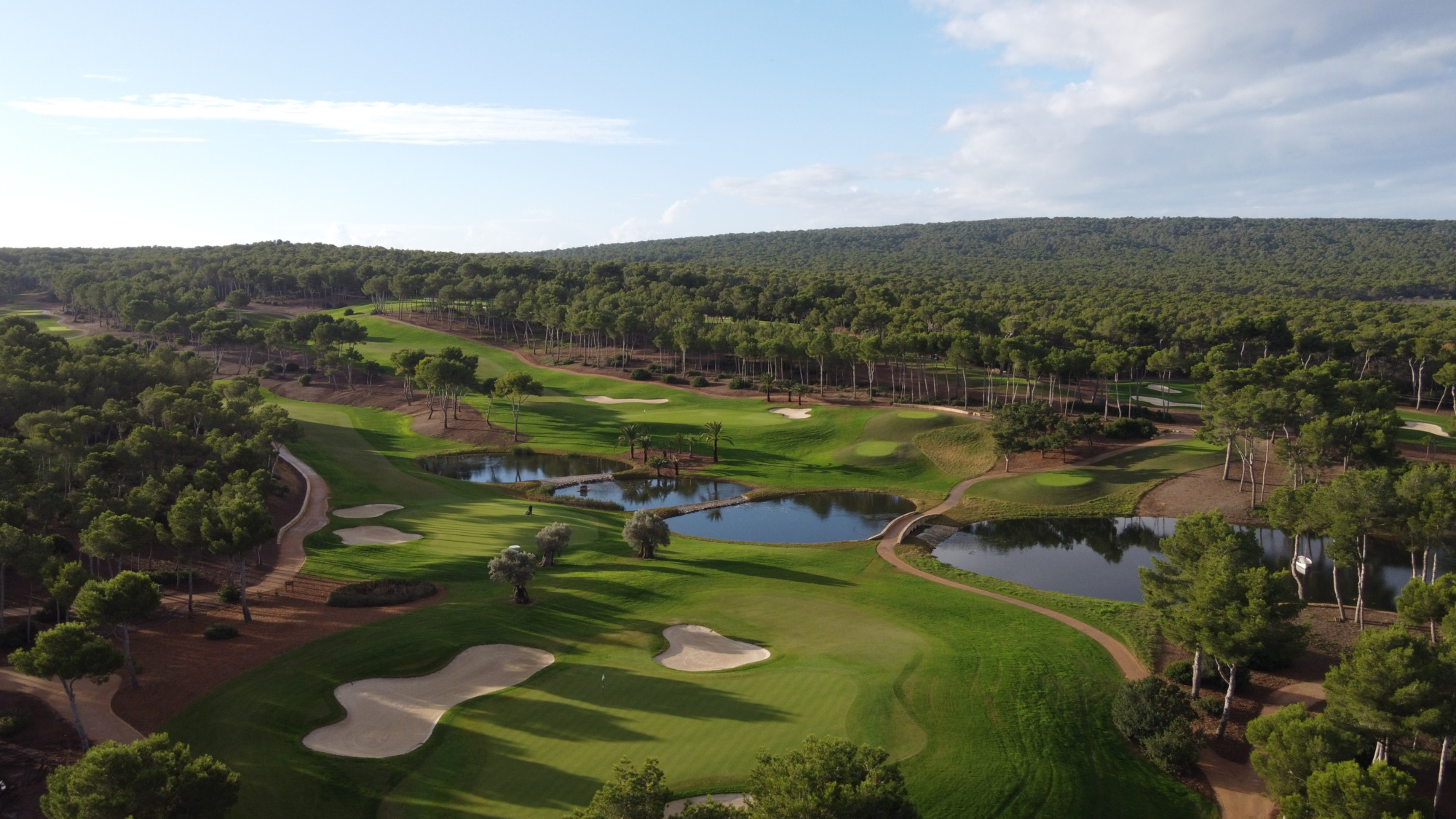 Golf Course
VISIT OUR 18 HOLES

The handicap and the course
The official personal handicap does not take into account the difficulty of the course (playing handicap). The course handicap, however, is adjusted to the course. Depending on the degree of difficulty of the course, a player may receive more or less strokes than the personal handicap would allow. Thus, a challenging course does not necessarily weaken the personal handicap. Instead of separating, course handicaps allow players with different playing expertise to play fairly and on par with each other.
To see our local rules, please
CLICK HERETo see Slope for men, pleaseCLICK HERETo see slope for women, please
CLICK HERETo see slope for 9 Holes, please
CLICK HERE
To see our Score Card, please CLICK HERE
Playing Handicap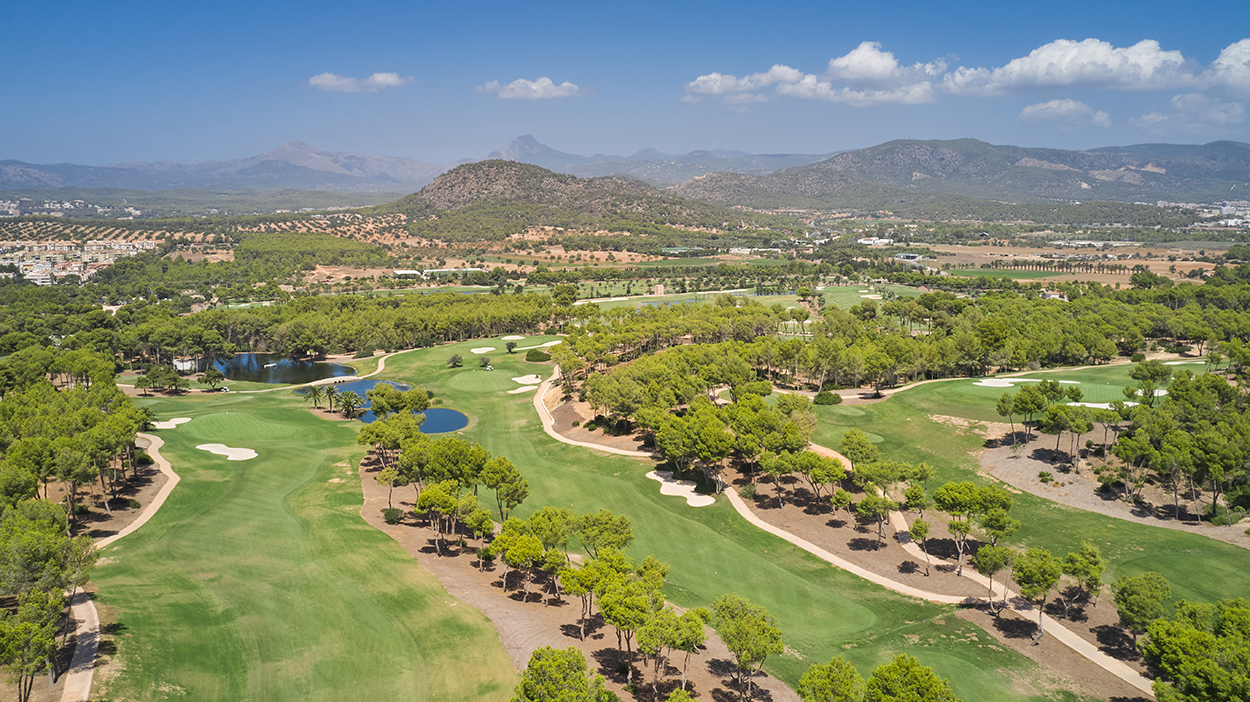 Driving Range complete with 7 Greens and 10 bunkers
Located adjacent to the first tee, the 120-metre-wide range is 300 metres long, has stations for 40 players with seven greens at varying distances protected by 10 bunkers.
More than just a place to hit balls, the state-of-the-art facility is designed for every club in your bag so you can work on every shot in your repertoire. All within a spectacular natural setting with unbeatable views of the Tramuntana Mountains. The scenery, the services, the layout, you'll never want to leave. An exclusive service for members and green fee players. Price per token: € 5 / 30 balls.
Opening Hours Driving Range
CLICK HERE
Driving Range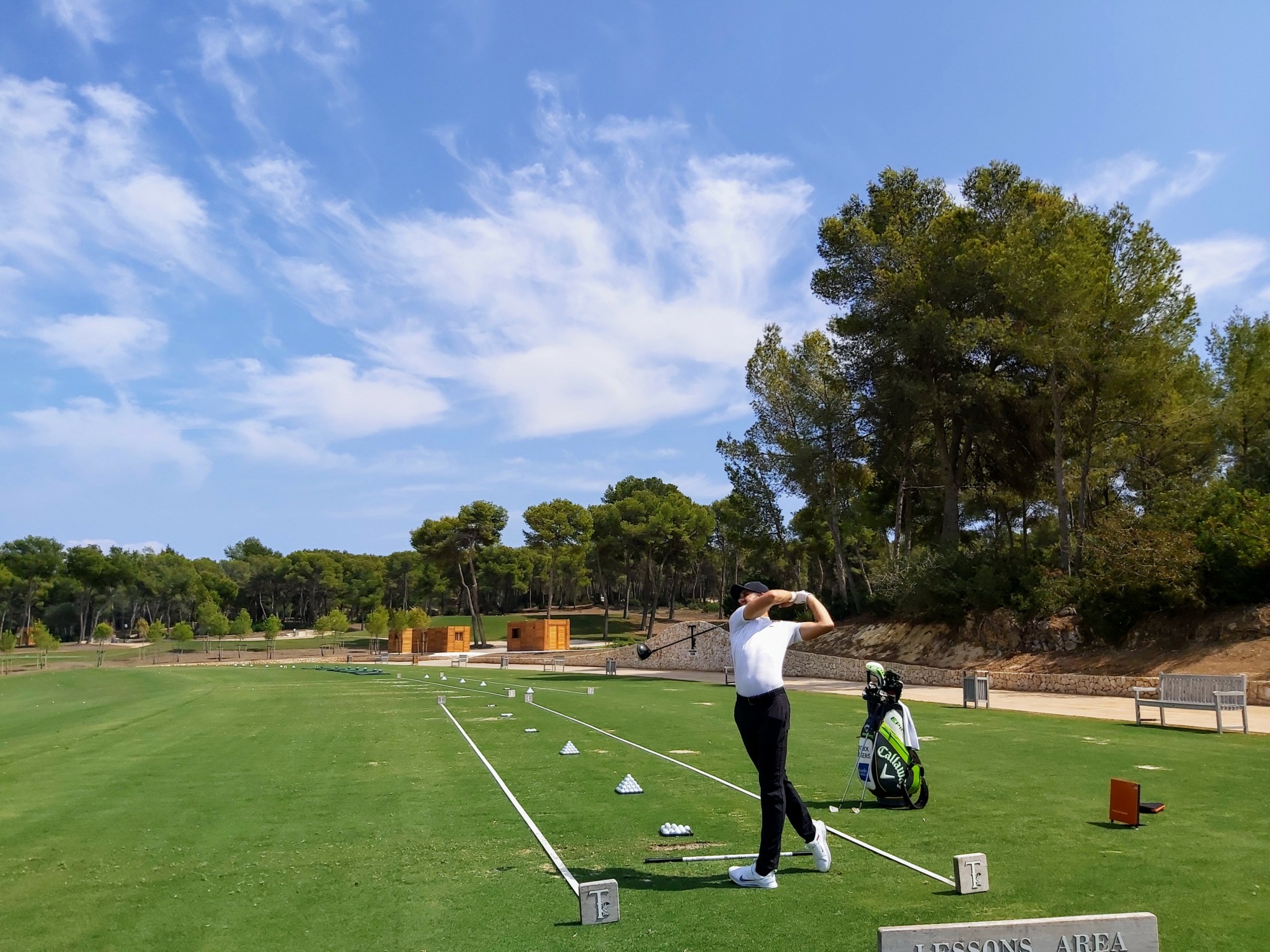 Perfect your game with the perfect practice facilities
At T Golf Calvia we are going long for your short game. Pitching, putting or sand shots, our newly designed practice areas include everything you need to cut strokes off your round.
In golf there is a saying, "drive for show, putt for doe" which is why we often put so much emphasis on our practice facilities. From the large green with practice area for chipping and bunker practice located in front of the club house to a large green with a platform for up to 80 metre pitching, numerous putting greens and bunkers that offer practice of every kind of shot imaginable, we take your short game seriously.
Pitching & Putting Areas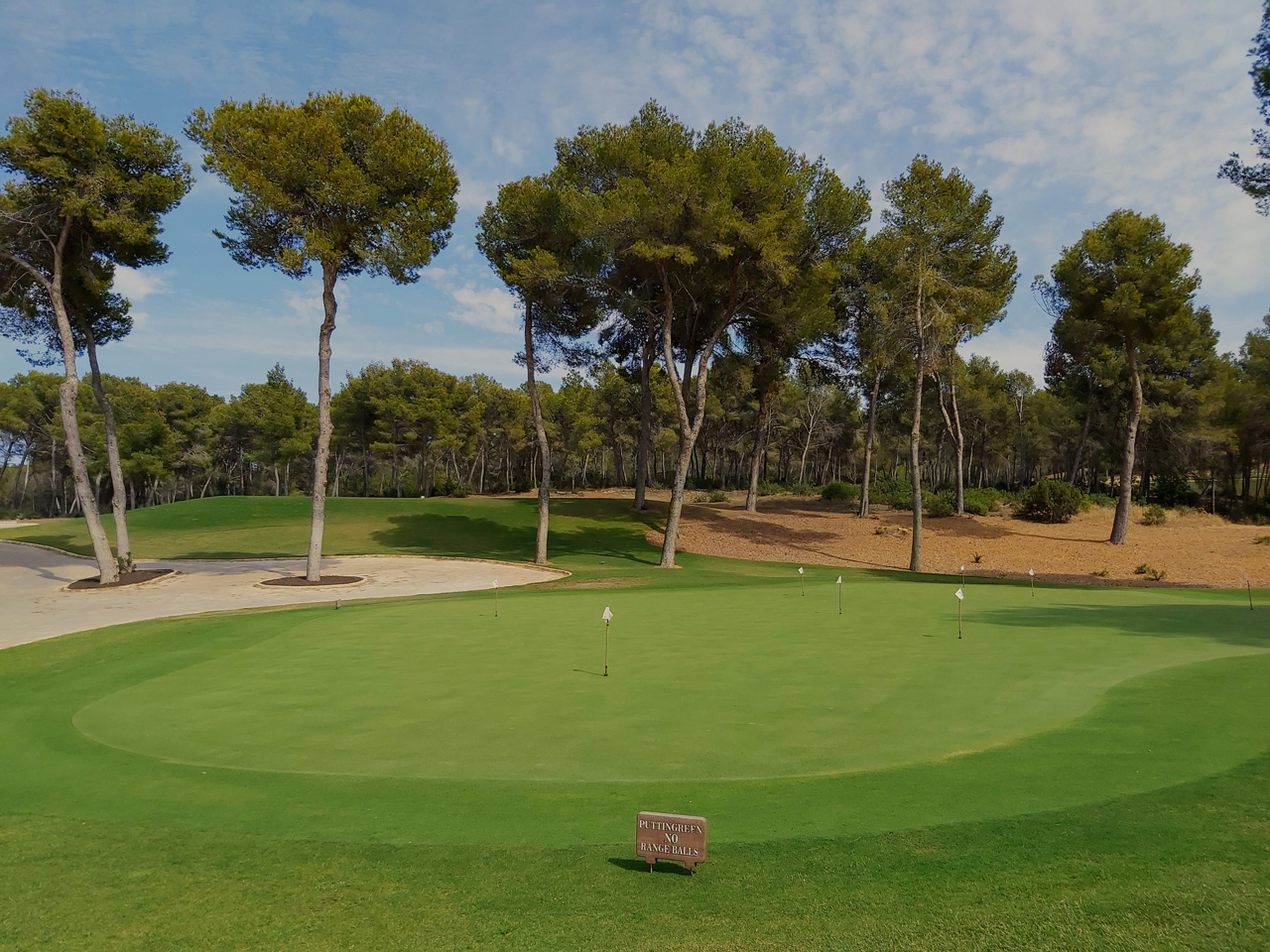 The latest equipment available to rent
If you have left your clubs at home, never fear you can rent the latest TaylorMade golf clubs for a round or two of golf at T Golf Calvia. That is not all, from the finest clubs to electric trolleys and buggies equipped with state-of-the-art golf course GPS, T Golf Calvia rentals service has everything you need for a great round of golf.
Fauna
A natural choice
Surrounded by pine, olive and palm trees, T Golf Calvia is golf in all its natural splendour. The views from many vantage points are breathtaking, making a round played here that much more enjoyable.
Head out on the course and you'll be surrounded by the kind of beauty and silence only nature can bring. For the bird lover, keep an eye out for stonechats, black winged stilts, kites, hawks, runner ducks, water lizards, turtles or yellow legged gulls. You'll not only see our winged friends at T Golf Calvia, but this is also home to four donkeys, three cats and of course Izzy, "World's Friendliest Dog."
After your golf round head down to nearby Cala Mago, a quaint little beach tucked into one of the most beautiful bays of Mallorca. It's a great place to end a perfect golf day.