Challenge Tour Grand Final 2020
European Tour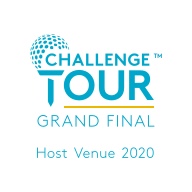 We are very proud and excited to announce that T Golf has been chosen to host the Challenge Tour Grand Final in 2020.
The European Challenge Tour was first established in 1989 with England's Neal Briggs crowned the first winner of the season-long rankings. Since then, the tour has become firmly established as Europe's leading pathway to the European Tour. In the last 30 years many of the world's finest players have participated including Thomas Bjørn (1995), Justin Rose (1999), Ian Poulter (1999), Henrik Stenson (2000), Louis Oosthuizen (2003), Tommy Fleetwood (2011) and Brooks Koepka (2013).
The 2020 Challenge Tour Grand Final will feature the top 45 players from the season-long Road to Mallorca Rankings, with the competitors playing a minimum of 24 events across three continents before they reach T Golf & Country Club from November 19-22, 2020.
There will be plenty on the line, with the top 20 players in the Rankings securing their European Tour card for the 2021 season following the completion of the Challenge Tour Grand Final. Players who have previously triumphed at the Challenge Tour Grand Final include Andrea Pavan, Benjamin Hebert, Henrik Stenson, Mike Lorenzo-Vera and Shiv Kapur, with many more European Tour winners progressing through the Challenge Tour Grand Final before going on to achieve great things at Europe's highest level.
Only the best of the best will qualify. We can't wait to see them take on the challenge of T Golf at the Challenge Tour Grand Final in 2020.