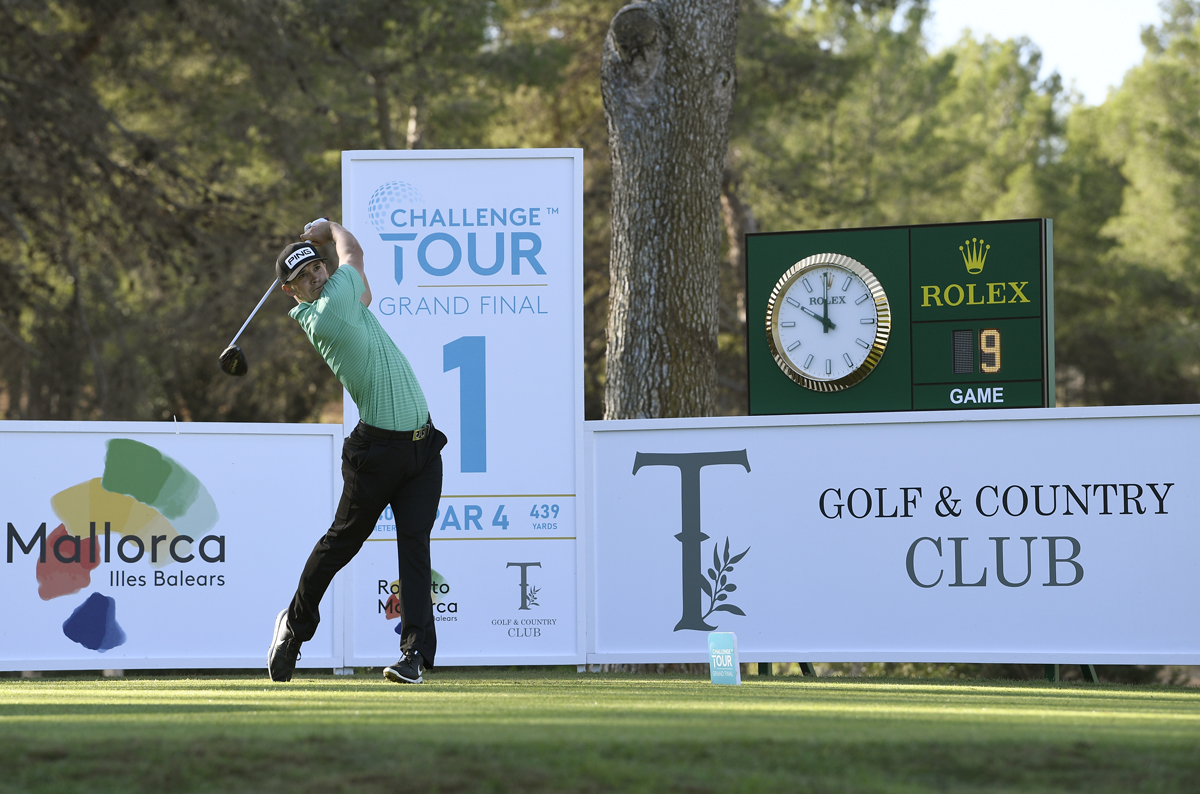 3RD DAY OF THE CHALLENGE TOUR 2020
Knappe retains lead on tough day in Mallorca
Alexander Knappe battled to a one over par round of 72 on day three of the Challenge Tour Grand Final and will take a one stroke lead into the final round at T-Golf & Country Club.
Blustery conditions meant scoring was higher than the first two days, but Knappe stuck to his task and will go into the final round on ten under par, one stroke clear of Denmark's Niklas Norgaard Møller, who is second on nine under par, while Czech Republic's Ondrej Lieser shares third place with Sweden's Robin Petersson and Christofer Blomstrand on eight under par.
The 31-year-old could win the Road to Mallorca Rankings by wrapping up victory tomorrow and has put himself in pole position to do so, despite not holing as many putts as he would have liked.
"I would have liked to shoot at least level par, but the wind picked up and it was a lot tougher than yesterday, so I'm quite happy with it. It didn't really go my way today; putts didn't drop and yesterday many putts dropped, so it equals out.
"The pins were tricky, you always had to draw it against the wind or fade it against the wind, and that made it tricky. The wind got up to a three-club wind at the end and it was not playing easy.
"I just need to stick to my strategy. I can play a good round tomorrow and I'm just looking to get it going a little bit better than today, then I'll be in good shape."
Denmark's Møller carded his third sub-70 round of the week to secure solo second place going into the final day and he is well-placed to go in search of his maiden Challenge Tour title.
"Today was a tough day," Møller said. "The wind picked up after the fifth so from then on, it was quite a grind. It turned from being a birdie game to a par game. I had some pretty crucial par saves out there, had to make a five-footer on the last for par, so overall I'm quite happy with my day.
"I've been playing well the last three days, so I'm just going to try and do the same. I'm not going into attack mode too much, but I'll just try to play my game and try and make some putts and some birdies. You can't guard yourself against a very good round tomorrow from somebody else so I'm just going to try and play as well as I can."
Norway's Kristian Krogh Johannessen sits in sixth place on seven under par, while Welshman David Boote, England's Harry Ellis, Spanish duo Scott Fernandez and Santiago Tarrio and Sweden's Björn Hellgren share seventh place on six under par, four strokes off the lead.
The lowest round of the day was shared by Petersson, fellow Swede Anton Karlsson and Lieser, the latter of whom was the only bogey-free player in the field on day three, as the trio all post five under par rounds of 66.
A thrilling final day is in store at T-Golf and Country Club with everything still to play for and the action will get under way at 8.30am local time. Leader Knappe, Møller and Petersson will comprise the final group and begin their quest for the title at 11.05am.