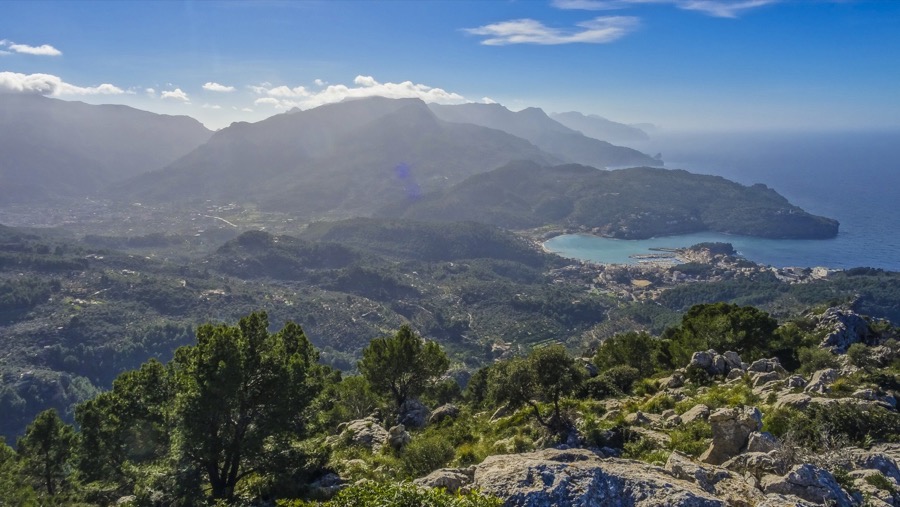 The old path of Balitx a walk between centenary trees
This much enjoyed walk takes us from the Mirador de ses Barques through the Balitx Valley. It is one of the most photogenic walks on Mallorca.
The walk begins at the Mirador located at a short distance from Soller. There is a panoramic view over the Port. After a short ascent along an old path we will join the Cami Vell de Balitx. We will pass beside ancient, twisted olive trees and a finca to the top of the valley. We can see terraces reaching high on the side of the valley and a saddle between two mountains (the Coll de Biniamar) in the distance. Following a stone path we will descend passing a spring, originally harnessed as a source of irrigation by the Moors 1000 years ago, to the second finca. Adjacent to the finca stands a celebrity olive tree. It is probably the most photographed tree on the island! We will continue downhill to the floor of the valley stopping at the final finca, Balitx d'Avall, with its 500 year old defence tower.
Grade
Circular walk low difficulty, approx. 9 km
Height:
400mts both in ascent and descent
Departure
From Mirador de ses Barques: 11.00hrs
Arrival
Balitx at 13.00hrs
Please confirm before 19th of April.